Hobson's Journey
September's Shadow first album, Hobson's Journey, is primarily a collection of synth pop songs. It contains two unconnected song cycles. "Hobson's Choice" (tracks 1-9) contains catchy, melancholy synth pop music with somber lyrics. "The Journey Home from Rexel 4" (tracks 10-18) contains instrumental works, several of which were original written for a video game.
The CD is available for purchase at CD Baby.
MP3 files are available for purchase at iTunes.
You can listen to some songs at MySpace.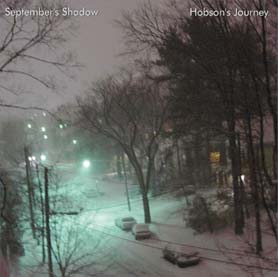 Tracks


Hobson's Choice
I Sent the Letter
Reprises
Is There a Doctor in the House?
Never Felt Like Home
Familiar
The Cut
Hobson's Choice
If Only
Fading
The Journey Home from Rexel 4
A Bad Omen
The Homeward Journey Begins
Moving Slightly Off Course
Turbulence
Lost in a Hostile Place
Everything Falls To Pieces
Thoughts Of ...
The Stillness Before ...
A Turbulent End
Vocals on 1 and 4 by KT Wills.
Vocals on 2 and 6 by Stefanie Seskin.